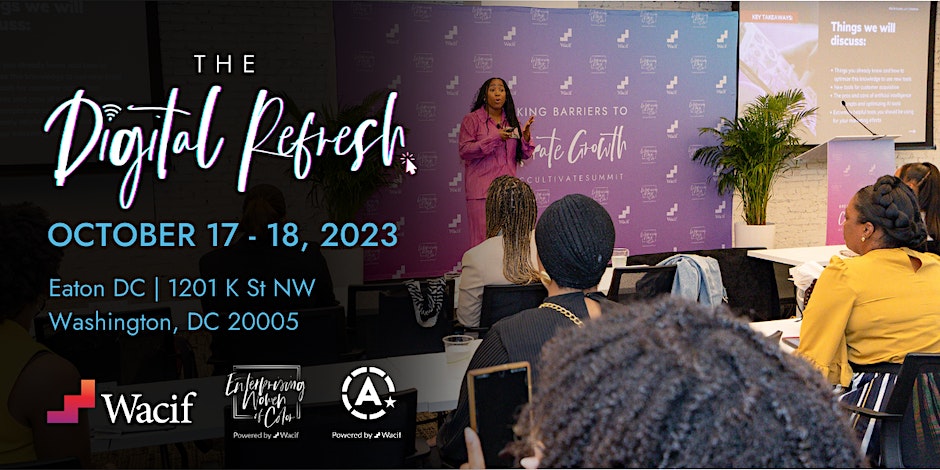 Event Details
Date: October 17, 2023
Start Time: 9:00 am EDT
End Time: 4:30 pm EDT
Location: Eaton DC
1201 K Street Northwest
Washington, DC 20005 United States
Are you ready to take your digital brand presence to the next level and steer your business towards online success? We are thrilled to introduce our upcoming Digital Refresh Masterclass, a FREE transformative 2-day event tailored for passionate entrepreneurs and small business owners like yourself.
What to Expect:
In-Depth Learning from Industry Experts: Our masterclass brings together a panel of seasoned industry experts who will share their knowledge and expertise on pivotal subjects such as SEO optimization, website design, e-commerce strategies, and effective social media tactics.
Hands-On Working Sessions: This is not just another workshop! Our event is designed to ensure active participation through hands-on working sessions. Attendees will be able to immerse themselves in practical workshops, gaining real-time instructor feedback and recommendations.
Networking Opportunities: Connect with fellow entrepreneurs and business owners, fostering meaningful relationships that could open new doors for collaboration and growth.
Session Highlights:
Unlocking SEO Potential: Learn how to make SEO work in your favor, driving organic traffic and elevating your brand's visibility.
Crafting a Website that Wows: Master the art of website design to create an engaging online platform that captivates your audience and amplifies conversions.
Optimizing E-Commerce for Success: Discover strategies to maximize e-commerce performance, leading to increased sales and customer satisfaction.
Navigating Social Media Triumphs: Acquire the skills to guide successful social media strategies, amplifying your brand's reach and engagement.
…and much more!
The Digital Refresh is FREE to attend, but spots are limited – secure your spot today and set your business on the path to digital success!
Breakfast and lunch will be provided for all attendees.
*Must be able to attend both days (Oct. 17 – 18 from 9 AM – 4 PM)
Disclaimer: Please be advised that photographs will be taken at the event. Your entry and presence on the event premises constitute your consent.
About the Experts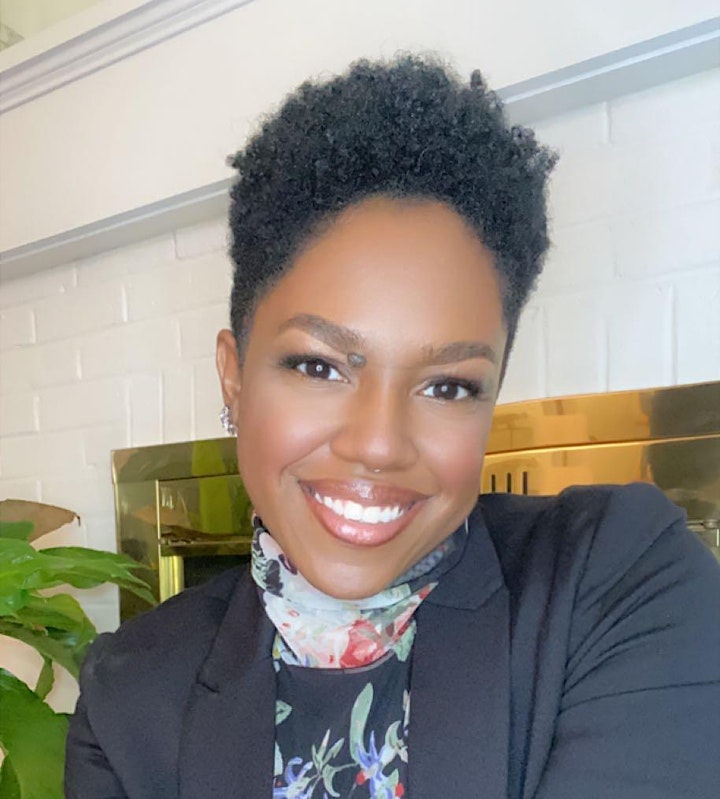 Dominiqua Eldridge
Dominiqua Eldridge is a highly skilled graphic artist and designer with over eight years of experience collaborating with government agencies, non-profits, entrepreneurs, business owners, and start-up companies. She specializes in brand and website development, digital design, and social media support. Dominiqua is the CEO and Founder of uniik Creatives LLC, where she partners with clients to provide a comprehensive suite of design services that exceed expectations. Her unparalleled creativity, meticulous attention to detail, innovative concepts, and exceptional problem-solving skills have set her apart from other visual designers. Dominiqua has a proven track record of developing impactful and compelling design concepts that elevate any creative project, whether collaboratively or independently.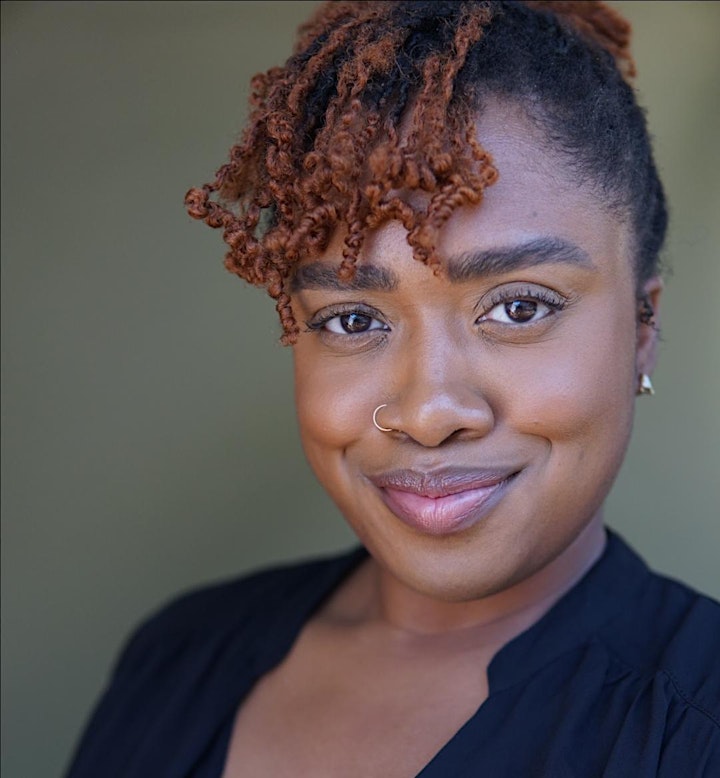 Jazelle Foster
Meet Jazelle Foster—founder of Creatives Meet Marketing. Her roots lie in acting, but a journey of diverse projects led her to an epiphany at Columbia University. Now, she redirects entrepreneurs from mundane marketing checklists to embracing marketing as an art form. Using Devised Theatre techniques, Jazelle's workshops are an alchemy of imagination and strategy. She firmly believes that in the world of business branding, the world craves personal stories. As Jazelle often says, "Marketing is your open diary to the world." Join her, and redefine the narrative of your brand.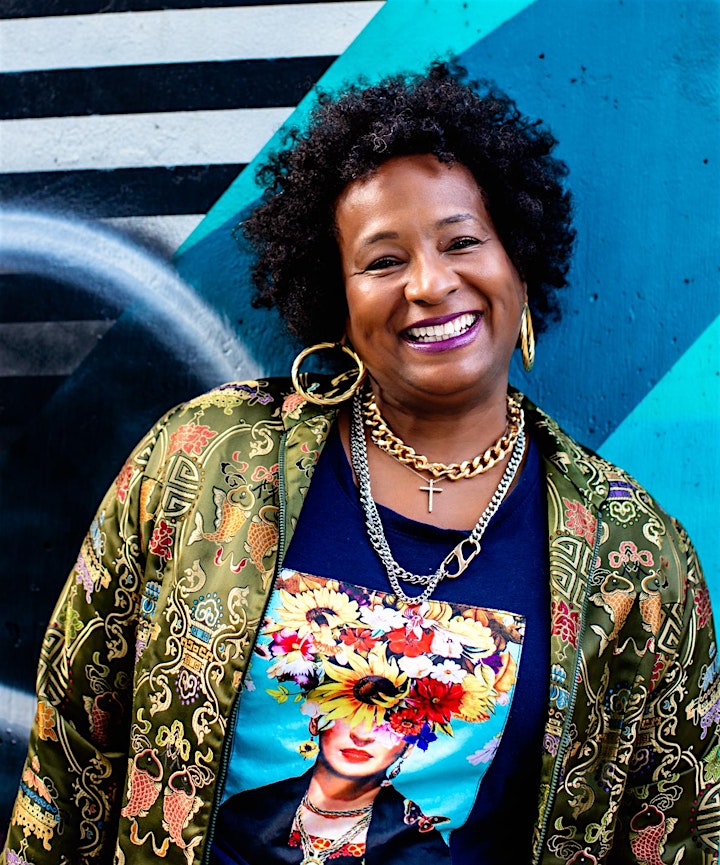 Theresa Watts
Creative, curious, and passionate, Theresa Elizabeth Watts is a proud native Washingtonian and graduate of Hampton University. She is an engaging and enthusiastic entrepreneur, life-style coach, and small business consultant.
A consumer-focused researcher, connector of people, curator of fashion, storyteller, and innovative generator of ideas, Theresa founded, created, and operated an award-winning independent brick and mortar and e-commerce retail brand, Lettie Gooch. Serving varied and distinguished clients as a tastemaker in the heart of Washington, DC for over 15 years, Theresa and Lettie Gooch have received local and national media recognition and accolades from various outlets that include: Fox5DC, Style/E Channel, The Washington Post, Essence Magazine, Travel and Leisure and more.
Theresa has professional experience in independent retail, small business consulting, social media, marketing, e-commerce, project management, public speaking, visual storytelling, fashion buying, styling, community relations, and curriculum training and development. Before branching out on her own, she previously worked for Accenture and Oracle utilizing her background in computer science as a Systems Consultant and Software Sales Engineer.
An advocate for small business, Theresa has advised and consulted restaurants, retailers, and non-profits on forward thinking social media planning, marketing strategy and e-commerce with a key focus on technology trends. She has served on the boards for Mid-City DC, Think Local DC and most recently Shaw Main Streets.
In addition to her B.S. in Computer Science, Theresa completed Fashion Styling, Marketing and Event certificates from Fashion Institute of Technology (FIT) and Life Coaching Certificate from The Coaches Training Institute (CTI).
Theresa is an active public speaker and in addition to lectures, seminars, and workshops she recently joined other storytellers on stage for Story District's: Women's History Month performance.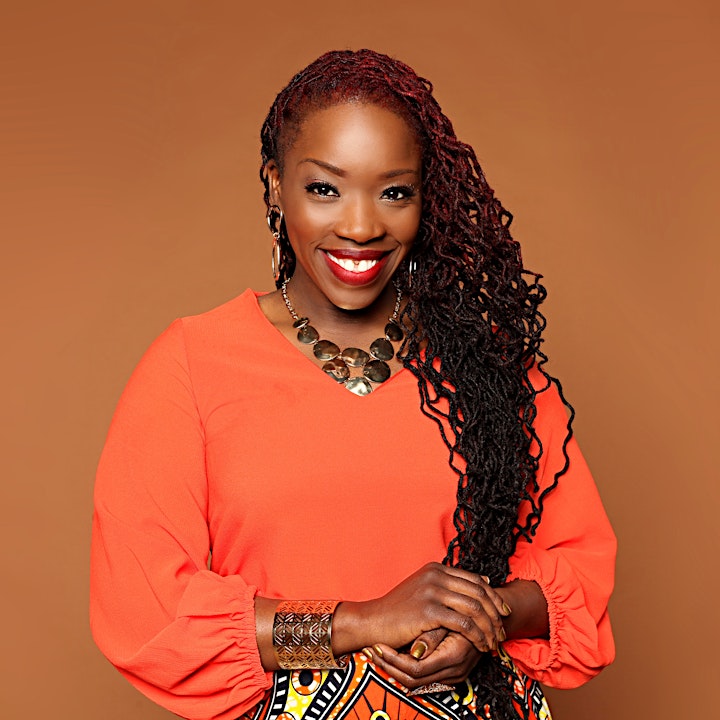 Julian B. Kiganda
Julian B. Kiganda is a transformational brand strategist, award-winning graphic designer, and accomplished speaker who specializes in creating compelling visual stories for an elite client base ranging from Fortune 500 corporations to multi-million dollar non-profits and small businesses.
As CEO of JBK Brand Design, a multi-cultural branding agency, her expertise in design, branding, marketing, and communications, has helped her clients land multi-million dollar sponsors, sell out events, and increase product sales by 800% overnight. A stellar roster of clients including the Steve Harvey World Group, the African Union, the National Urban League, Iyanla Vanzant and Turner Construction have sought Julian out to help them bring the soul of their brands to life in an unforgettable way.
A professional storyteller, Julian and her work have been featured in notable media outlets such as The Washington Post, ABC News, Communication Arts, Voice of America, NPR, NBC News, and ARISE Magazine. A voice of authority in her industry, she's taught branding and marketing courses at Bowie State University, and has spoken at the United Nations, World Bank, Rockville Women's Business Center, Georgetown University, NAACP Conference, and on Capitol Hill, amongst others.
In 2014, she co-authored Whose Shoes Are You Wearing? 12 Steps to Uncovering the Woman You Really Want to Be, a powerful personal development book. A passionate advocate for youth and the arts, Julian is on the board of Chicago-based nonprofit, Project Osmosis, which introduces youth from under resourced areas to careers and opportunities in design. Known for giving talks as transformative as her design work, Julian speaks on how to build a brand through storytelling, effective communication, and living with purpose. She received her BA in Graphic Design from Marymount University.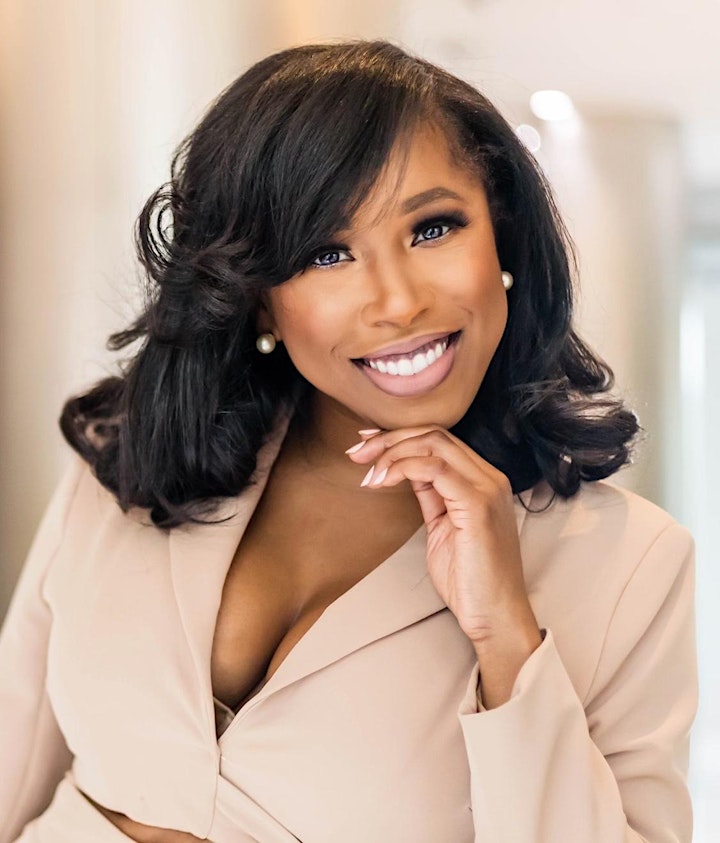 Kelcie Glass
Kelcie has extensive experience in brand development, digital marketing, marketing automation, integrated digital campaigns, and social media optimization. Her client-based projects have allowed her to have on-going relationships with major brands like Amazon, Bozzuto, Kettler, Apple, Nordstrom, Jim Beam, Jack Daniels, Samsung, and many others. She has worked with brands on inclusivity initiatives, often developing brand strategies for new markets.
She also has expertise in political communication and messaging, policy and advocacy, and has worked with several progressive organizations. She was a communications consultant for two elected DC council members and has led digital marketing and organizing for three campaigns for the Communications Workers of America, helping the union find frontline workers who deserve more protection and job security.
Her professional goals are to not only share marketing tools and resources with marginalized communities, but to make sure business owners (both small and large) have a more robust and integrated approach to their digital marketing efforts.