Cocktails + Conversations: Dr. Keisha Mack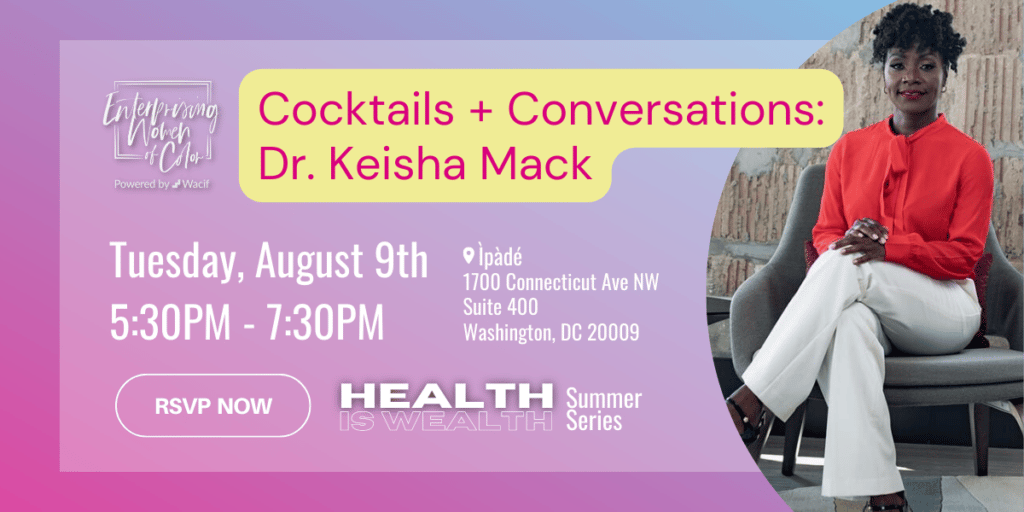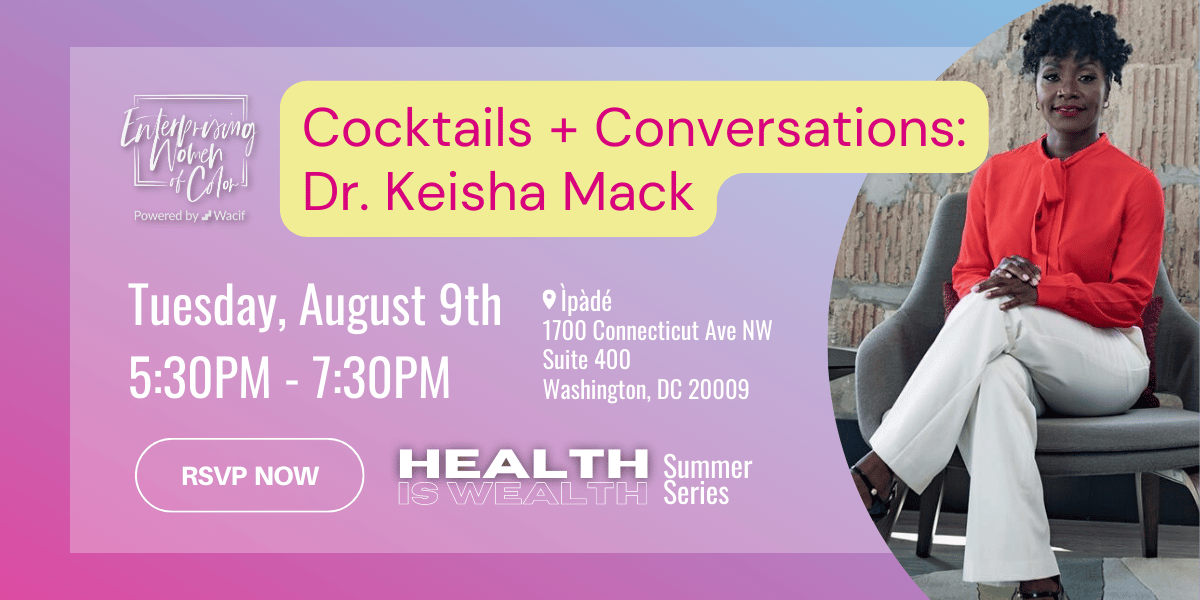 Event Details
Date: August 09, 2022
Start Time: 5:30 pm EDT
End Time: 7:30 pm EDT
Location: Ìpàdé
1700 Connecticut Ave NW Suite 400
Washington, DC 20009 United States
Stress is a natural part of the entrepreneurial journey, but it does not need to define your experience as an entrepreneur. In this special Cocktails & Conversations, Dr. Keisha Mack of The MECCA Group, LLC will lead us through an engaging conversation discussing best practices to implement healthy self-care practices. Join this session and walk away with new self-care strategies benefiting your body, and in turn, your business. During this event, you will also have the opportunity to connect with other women of color entrepreneurs from many different industries from all over the DMV region.
About the Facilitator
Keisha L Mack, PhD is co-founder and Chief Operations Officer of The MECCA Group, LLC a Black Woman owned psychological and rehabilitative health services company, whose focus is on providing high quality mental and rehabilitative health services to the underserved and communities of color in the DC Metropolitan area. Dr. Mack also served as Clinical Assistant Professor and Licensed Psychologist at Georgetown University Hospital in the Department of Pediatrics (2007-2015).
Dr. Mack's clinical experience includes working with at-risk adolescents and their families, and young adults in settings such as, residential treatment facilities, schools, hospitals, and private practice. Her clinical interests include psychological testing and supporting individuals who experience mood disorders, such as depression and anxiety.
Over the course of her career, Dr. Mack has developed significant acumen and expertise in entrepreneurship and business development, and she has been selected for several leadership development programs including the Small Business Administration's Emerging Leaders Program (2017) as well as the AmeriHealth Caritas Small Business Development Program (2020). Her love for business has grown into her current passion of supporting women, and young professionals start, grow and scale businesses.
Dr. Mack is very active in her community, including being a member of The Twelve Days of Christmas, Incorporated since 2007, Howard University Alumni Club – Greater Washington DC since 2012, and an Executive Board member of the Williams Franklin Foundation, since 2016. She is also a Founding Member and the Secretary (2022) of The BOW Collective, an organization of the Nation's top 1% of Black Women Enterprises who work together to bring awareness, business opportunities, and capital resources to black women enterprises.
In her spare time, Dr. Mack enjoys spending time with friends and family, mentoring students and young professionals, and traveling.